IGCSE English Language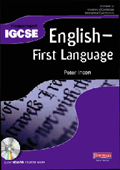 Heinemann commissioned this textbook in October 2009. I was known to them because one editor had rejected material which I had provided for an A-level textbook on the grounds that it was too demanding. I pointed out that the work was of a standard which I would have expected as an IB examiner and suggested that expectations of A-level students had declined. With this the editor had to agree.
Despite an earlier delay with the book – the first writer had pulled out – Tom Hardy at Heinemann generously allowed me to start afresh, rather than attempt to complete another writer's work. He quickly grasped the particular approach I wanted to take and supported me in doing so.
His colleagues too have all proved most helpful and supportive and I am very pleased with the result.
I have tried very hard to engage students in an understanding of what they are expected to do and to help them appreciate the importance of high standards with their English as a prerequisite of so much else. I am especially pleased with the range of material which I have been able to present in a genuinely international textbook, material of a high standard from twelve countries in five continents.
The book will serve anyone wanting to improve their written English whether teenager or adult.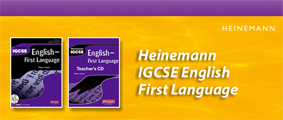 Heinemann IGCSE English – First Language
Complete coverage of the latest Cambridge International Examinations
IGCSE syllabus
ISBN: 978-0-435991-18-0
"I've just finished reading IGCSE English – brilliant! It's the first text book I've ever read that I could honestly describe as a page turner." David Titmuss – IT consultant.