About Peter
Peter Inson grew up in Essex and trained as an agriculturalist. Ten years later he re-trained as a teacher of English. He became head of a comprehensive school in west London then left the state system.
For five years he taught at an international boarding school in Switzerland and helped his wife run a boarding house for teenage girls.
At school he failed English literature and sympathises with teenagers who now face much unreasonable pressure to "succeed" early in life. Eventually, he gained a degree in English and has been an examiner for the International Baccalaureate.
For a short while, he and his wife fostered a fifteen year-old girl who had been expelled from two schools.
Peter's first novel, 'dunno' won an Arts Council award. In 2009 Heinemann commissioned  a text book for the IGCSE which was published in March 2011.
He has written about education and young people in the national press and continues to write both fiction and non-fiction.
He writes a regular column for a local magazine.
Some of my best students
These lads have just finished work on William Golding's Lord of the Flies, the story of boys trapped on a tropical island who kill a pig and set up its head on a stick, as a totem.
It's 1988, my last day with them and they were waiting for me when I came into the classroom. Where on earth they found a pig's head in Dagenham, which they then smuggled into school, I don't know, but I was proud of them. One of the best send-offs I have ever had.
It could well have been these boys who helped me entertain a school inspector who was sent down from Newcastle the previous year to assess our A-level teaching. We advised the inspector that on Wednesdays there was no A-level teaching but she could only visit us on a Wednesday and she had to settle for O-level Eng. Lit. with fourteen and fifteen year-old boys. I was cross because I had calculated that the cost of her visit would exceed my year's allowance for book purchases.
I had just encountered an Australian poem, Peter Porter's Sex and the over Forties, an amused and ironic examination of the view young people have of older folk's private lives. The boys rose to the occasion; they did not need to be told what was going on and responded loyally, aware of the professional tension in the room.
The inspector, the only female in the room, and the only one of us who was clearly over forty, listened. We examined every possible nook and cranny of the poem, milked every word for the slightest of innuendos in ways which would have crimsoned most women at the time. Our lady from Newcastle did not bat an eyelid because, I then realised, she understood exactly what we were up to.
At the end of the lesson she spoke to the boys and complimented them on their work; the standard was what she would have expected of able eighteen year-olds.
2003
My one and only marathon, run in aid of the Ron Pickering Memorial Fund which helps young athletes.
Ron was on the staff of Wanstead County high School where he taught me. Later Ron was to train Lynn Davies who won gold at the 1964 Olympics, before becoming the BBC's athletics correspondent.
A relaxing hobby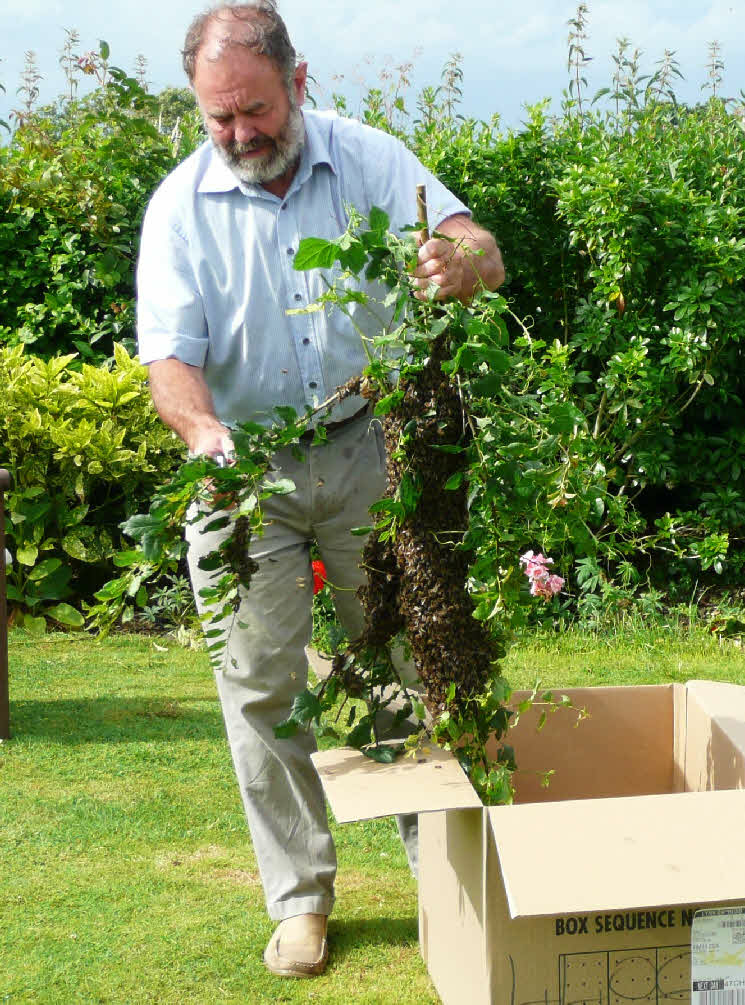 I have kept bees for over twenty years. It's an interest which keeps me in touch with farming.
Here I am about to shake the bees from the branch into the box before taking them to an empty hive. The swarm had settled into a tree from which I had sawn this branch.  Despite appearances, I am not in danger because, generally, swarming bees are happy bees.
Before a queen bee leads half the colony away to find a new home her children fill themselves with enough honey to last for about four days. Bees that are full of honey are usually happy bees.  If bees are not happy an experienced beekeeper will be aware of this very quickly and will put on a veil at least before continuing.
Learnt at fifty-two
Favourite piste?
The black run, down from Furgg into Zermatt.
Back in the classroom
Teaching is learning – giving talks and running writing workshops.  Occasional visits to the classroom provide an important opportunity to listen to young people.
Peter's articles have appeared in The Times, The Guardian, The Independent, The Daily Express, The Times Education Supplement, Swiss News, Beecraft, Children Now and The Farmer's Weekly. He has also written on self-publishing in The Writers' Forum and Children's Literature in Education [NY].
Click to see Peter's journalism
Peter has supported home-schoolers and has appeared on radio and television.